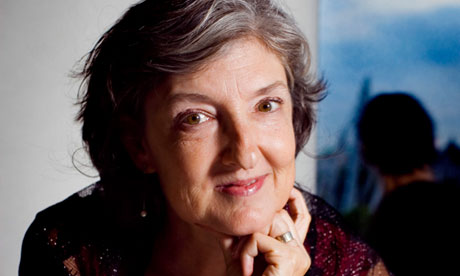 Barbara Kinsolver
Like Bertold Brecht the other day Barbara Kingsolver—who not by chance is celebrating her 61st birthday today—is best known as a writer for something other than poetry.

She is a celebrated, even beloved, novelist best known for the phenomenally successful Poisonwood Bible and as the patron saint of the eat locally movement for her non-fiction.

In an essay published nearly twenty years ago she confessed:
I have never yet been able to say out loud that I am a poet…It took me some 30 years and several published novels to begin calling myself a novelist, but finally now I can do that, I own up to it, and will say so in capital letters on any document requiring me to identify myself with an honest living…
Poetry is a different beast. I rarely think of poetry as something I make happen - it is more accurate to say that it happens to me. Like a summer storm, a house afire, or the coincidence of both on the same day. Like a car wreck, only with more illuminating results. I've overheard poems, virtually complete, in elevators and restaurants where I was minding my own business. When a poem does arrive, I gasp as if an apple had fallen into my hand, and give thanks for the luck involved.
But rest assured, Kingsolver is a very fine poet as her collection Another America/Otra América testifies.
Like many fine writers, an unusual childhood let to a wandering path to her ultimate career.

She was born in middle class comfort in Annapolis, Maryland, in 1955.

But her physician father moved the family to rural Carlisle, Kentucky, population at the time of about 1,500 where Barbara grew up until she was 7.

Then her father took the family to

Léopoldville, Congo where both parents worked in public health and the family lived "with the people" in primitive housing without running water or electricity.

This experience would inform her novel The Poisonwood Bible, although the book was not

autobiographical.
Kingsolver returned to the United States for her high school education and earned a music scholarship to attend DePauw University in Greencastle, Indiana.

She originally aspired to become a classical concert pianist but realized that, "classical pianists compete for six job openings a year, and the rest of [them] get to play Blue Moon in a hotel lobby."

She changed her major to another life-long interest, biology.

While in school she became involved with activism and protest including involvement opposition to the Vietnam War in its waning days.

She would retrain a commitment to peace and social justice issues, subjects of much of her later non-fiction writings and providing themes for both fiction and poetry.
After graduation from DePauw in 1977, Kingsolver moved to Tucson, Arizona, her base for more than twenty years.

She enrolled in graduate school in 1980 at the University of Arizona where she studied evolutionary biology and ecology.

While pursuing her studies she began her

career as a science writer for the university, going full time upon receiving her Master's Degree in 1985.
That same year she married Joseph Hoffmann and together they had a daughter, Camille, in 1987.

By that time she had broadened her writing horizons contributing freelance features to the local alternative newspaper, The Tucson Weekly including many cover stories.

She also won an award from a Phoenix newspaper for a short story, encouraging her to pursue fiction.
Kingsolver as a young writer.
She was soon immersing herself in her prolific writing across genres.

Her first novel The Bean Tree published in 1988 traversed the geography of her own life but put Taylor Greer, a sensitive young woman in different situations from her own.

Her protagonist leaves rural Kentucky for Arizona and on the long drive picks up an abandoned Cherokee toddler in Oklahoma who she names Turtle and informally adopts.

The book recounts the struggle of the makeshift family as they endure poverty and violence as Turtle grows.

Their lives are entwined with other outsiders—Lou Ann, Taylor's roommate; Esperanza and Estevan, a Guatemalan couple; and Mattie, the owner of Jesus Is Lord Used Tires.

They book explored several social justice themes including Native American parental rights, immigrants, and a deeply flawed justice system.

The novel was an immediate critical success and although not written as young adult fiction was soon incorporated into high school reading lists where its controversial content was not challenged.
In 1989 her collection Homeland and Other Stories was published to strong reviews
The same year material that began as articles for The Tucson Weekly became the bases for Holding the Line: Women in the Great Arizona Mine Strike of 1983, an account of the brutal and catastrophic four year long strike against copper giant Phelps Dodge protesting deep wage and benefit cuts.

The strike echoed all of the collusion of company and state and local authorities, beatings, jailing, intimidation, night riding, and evictions of the notorious copper strikes of the early 20th Century and the Salt of the Earth strike of the early '50's.

Kingsolver made no pretense at objective neutrality.

She was a frank supporter of the overwhelmingly Latino strikers and their families.

And she set out to tell the tale from the perspective of the sacrifices made by the wives, daughter, mothers, and sisters of the mostly male miners.

It was an explicitly feminist take on the struggle.
These three books marked Kingsolver as a new major American writer.

But success also came with strains to her marriage.

When the Gulf War broke out in 1990, Kingsolver was so upset with her perception of American imperialism and war mongering, that she left the country for a year to live with her young daughter in the Canary Islands.

When she returned to Arizona, her marriage officially dissolved in divorce in 1992.
But the upheaval did not seem to interrupt her creative production.

Her second novel, Animal Dreams was published in 1990 and told the tale of a young woman who returns to her desert home town to care for her aging father who is losing a struggle with Alzheimer's disease.

The novel is interwoven with events from the Nicaraguan Contra-War, ecological themes informed by Klinghover's deep biological understanding of the environment, and Latino and Native American concerns.

On a personal level it is about the ability to commit to another human being, a community, or a place.

The book won the Pen/USA West Fiction Award and the Edward Abbey Award for Ecofiction.
Klinghover's book of poetry Another America/Otra América appeared in 1992.

She admitted the poems came to her and were jotted down on any handy paper in the spare moments as she struggled with care of a small child and other responsibilities.
In 1993 the sequel to The Bean Trees appeared taking up the story of Taylor Greer and Turtle and turtle as mother and daughter bond and Taylor takes Turtle back to Oklahoma to reconnect to her Cherokee roots.

Pigs in Heaven was extravagantly praised and became the first of Kinghover's books to crack the New York Times Best Seller List.
In 1995 Kingsolver was awarded an honorary doctorate from her alma mater DePauw.

She also married for a second time to ornithologist Steven Hopp.

The marriage has been an enduring and happy one and a daughter Lily was born in 1996.
High Tide in Tucson
was a 1995 collection of 25 essays on ecological, family, and community themes, often weaving the three together with

imaginative ease

.
The Poisonwood Bible
was longer in gestation than any of her previous work.

But the time was not wasted.

It became an instant classic when published in 1998.

Klingsolver drew on her own childhood experiences in the Congo, but the family of a delusional Baptist missionary to a rural village during the turmoil leading to independence from Belgium was not her own.

The father fails repeatedly at his dream of bring the heathen natives to Christ because he cannot and will not understand their culture and situation.

Along for the trip are a loyal but independent minded wife from Mississippi and four very different daughters, three teenagers and a precocious child.

Each struggle to come to grips with their situation and relate to the bemused and sometimes angry villagers the father hopes to save.

When the youngest child Ruth May dies of a snake bite the mother is overwhelmed with grief and each of the surviving sister deeply affected in some way while the Father mouths Christian platitudes and is unmoved from continuing his floundering mission.

The novel follows the mother and daughter back to the US and recounts how they try to put their lives back together.

In the end, the family returns to a newly independent nation searching for Ruth May's grave, which cannot be found—and it is suggested may never have existed.

The final chapter is told by the dead Ruth May as she observes her family's search for her remains and reflects on the Congolese concept of muntu--
concept of unity and how all life is connected in some way.
The novel combined political condemnation of Belgian colonialism—the most brutal in Africa which is saying something considering the completion offered by the British, French, Portuguese, and late comers Germany and Italy—and on American naivety and cultural arrogance.

But it was also a deeply spiritual book that moved millions of readers.

Its best seller status was boosted by Oprah Winfrey' selection of the book for her Book Club.

It was a Pulitzer Prize finalist for 1990 and the recipient of the prestigious South African Boeke Prize in 2000.

She was also presented with the National Humanities Medal by President Bill Clinton that year.
Remembering how early recognition with a literary prize encouraged her career, Kingsolver, now a wealthy woman, created and fully funded the Bellwether Prize to encourage writers whose unpublished works support positive social change.

It is awarded every two years and comes with a $25,000 cash award which she knew could be a critical help struggling writers.
Kingsolver has continued to produce remarkable novels including Prodigal Summer in 2000 and The Lacuna

in 2009.

In the later a young American becomes involved as an assistant to Mexican artist Diego Rivera and Frida Kahlo and Russian revolutionary exile Leon Trotsky in the '30's and then becomes the subject of a House Un-American Activity Committee (HUAC) witch hunt in the '50's.
Her most recent novel, Flight Behavior centers on the Monarch butterfly and how disruptions to its migratory patterns are a dire symptom of human caused climate change.

It was declared Best Book of the Year by both the Washington Post and USA Today.
Meanwhile Kingsolver has been busy on other fronts, as well.

Always an outspoken activist, she harvested a storm of criticism and death threats for a Los Angeles Times op-ed piece denouncing the bombing of Afghanistan after the 9/11 attacks.

She wrote:
I feel like I'm standing on a playground where the little boys are all screaming at each other, "He started it!" and throwing rocks that keep taking out another eye, another tooth. I keep looking around for somebody's mother to come on the scene saying, "Boys! Boys! Who started it cannot possibly be the issue here. People are getting hurt."
In 2002 her poetry was illustrated by the photography of Annie Griffiths Belt in Last Stand: America's Virgin Lands,

a celebration of the isolated and often small remnants of America's natural landscape as it was before European/White exploitation and

development

.
Family on the farm--Camille Kingsolver, Steven Hopp, Barbara, and Lily Hopp.
In 2004 Kingsolver and her family left their long time home base in Arizona and relocated to a farm in Washington County, Virginia.

The next year they committed to an experiment to live for a year eating locally produced food almost exclusively.

They ate what they grew on their farm, or bartered for or bought locally.

They did buy staples that were not produced locally including coffee, flour, and olive oil.

They raised—and slaughtered—their own livestock, made cheese and butter, and preserved many of their fruits and vegetables for winter use.

In collaboration with her husband Steven L. Hopp and eldest daughter Camille Kingsolver she documented the experience with humor, tales, and reflections on industrial farming and its ecological effects in the 2007 non-fiction book Animal, Vegetable, Miracle: A Year of Food Life.

The book became a huge boost to the eat local movement, although it has been criticized by the vegetarian members of that community for the inclusion of animal products in their diet.
Today Kingsolver is one of the most beloved writers in America—except for the reactionary right wing for whom she is a symbol for everything they despise.
Today we will enjoy a couple of her poems, beginning with a piece on the importance of poetry itself inspired by the removal of poetry from the Arizona public school curriculum as a "waste of time."
Commemorating the removal of poetry as a requirement in Arizona's schools, August 1997

The Governor interdicted: poetry is evicted
from our curricula,
for metaphor and rhyme take time
from science. Our children's self-reliance rests
upon the things we count on. The laws
of engineering. Poeteering squanders time, and time
is money. He said: let the chips fall where they may.

The Governor's voice fell down through quicksilver
microchip song hummed along and the law
was delivered to its hearing. The students
of engineering bent to their numbers in silent
classrooms, where the fans overhead
whispered "I am I am" in iambic pentameter.
Unruly and fractious numbers were discarded at the bell.
In the crumpled, cast-off equations,
small black figures shaped like tadpoles
formed a nation, unobserved, in the wastepaper basket.
Outside, a storm is about to crack the sky.
Lightning will score dry riverbeds, peeling back the mud
like a plow, bellowing, taking out bridges,
completely unexpectedly.
The children too young to have heard
of poetry's demise turn their eyes
to the windows, to see what they can count on.
They will rise and dance to the iamb of the fans,
whispering illicit rhymes,
watching the sky for a sign
while the rain beats time.
—Barbara Kingsolver
And this meditation on her relationship with her
fowl
.
Apotheosis
There are days when I am envious of my hens:
when I hunger for a purpose as perfect and sure
as a single daily egg.
If I could only stand in the sun,
scratch the gravel and blink and wait
for the elements within me to assemble,
asking only grain I would
surrender myself to the miracle
of everyday incarnation: a day of my soul
captured in yolk and shell.
And I would have no need
for the visions that come to others
on bat's wings, to carry them
face to face with nothingness.
The howl of the coyote in the night
would not raise my feathers, for I,
drowsy on my roost, would dream
of the replicated fruits of my life
nested safe in cartons.
And yet I am never seduced,
for I have seen what a hen knows of omnipotence:
nothing of the miracles in twelves,
only of the hand that feeds
and, daily, robs the nest.
—Barbara Kingsolver