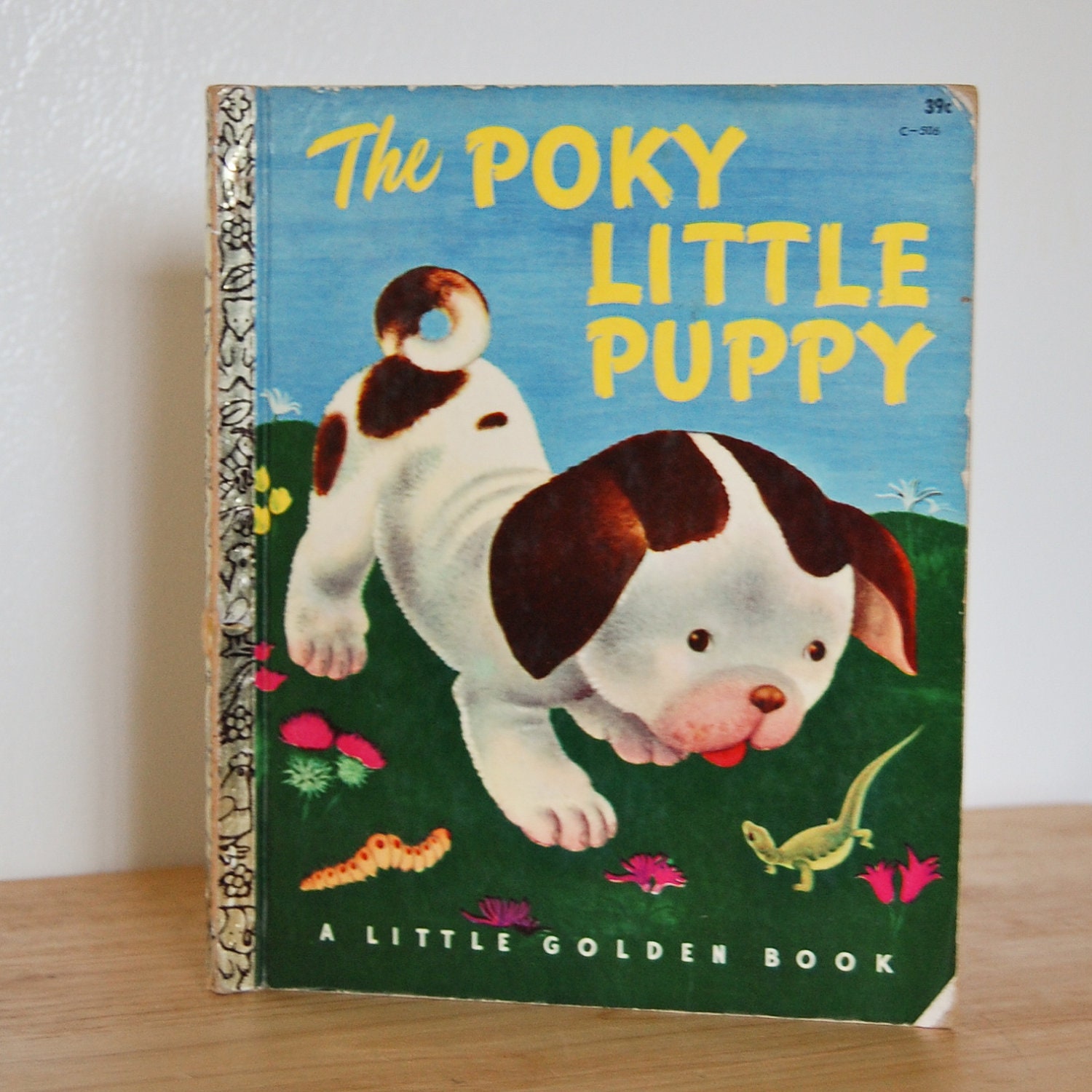 A well used copy of The Poky Little Puppy, the best selling of the 12 original Little Golden Books.
Today's responsible parents are required by law to provide educational, psychologically vetted, and age appropriate books for their tykes, preferably penned by a celebrity and sensitively illustrated by a renowned artist.
The book must be an over-sized hard cover festooned with award medallions and must be purchased at specialized children's book boutique for at least $22.95 plus tax.

The parents will read this book to the designated tot 1.2 times before it is carefully placed on colorful shelves with scores of other books in a display meant to impress other parents and visiting in-laws with the depth of their commitment to their children's betterment.
Sometime between the kid's eighth and twelfth birthdays all of the books will be boxed up and sold in a garage sale for .25 cents each.
Generations
earlier, grim faced relatives shoved thick little books dense with type and uplifting moral lessons at children who were expected to be able to recite long passages from them by rote in the parlor after Sunday dinner.
In between there were Little Golden Books.

The first twelve titles in this durable series were published on October 1, 1942.

They featured simple stories and rhymes illustrated on every page with bright lithographs, bound between thick, sturdy hard cardboard covers with a glittering gold stripe down the spine.

Each book sold for .25 cents, not just in book stores, but in the kind of places families visited almost all of the time—department stores, drug stores, five and dime stores, grocery stores.
Among those first twelve books were some that have not been out of print a day since:
Three Little Kittens
, The Little Red Hen, The Poky Little Puppy,
and The Animals of Farmer Jones.

The Poky Little Puppy alone may be the best selling children's book of all time with more than 15 millions sold as of 2005.
As a child of the 1950's, I can attest to the magnetic appeal of these books.

Staring at the rack of Little Golden Books in the grocery store kept me out of mischief while my mother did the weekly shopping.

If I had been good and Mom, always a thrifty shopper, kept the bill low, I might be allowed to take home a new book.
By that time besides the cheerful little kiddy books, there were also exciting adventures of Hoppalong Cassidy and Roy Rodgers, and books from Walt Disney cartoons.

These books were kept in the bedroom and read over and over.

By the time I was in the second grade and ready to graduate to real or chapter books, both my reading skills and my affection for books made me eager and able.
Thirty years later Little Golden Books were still captivating my youngest daughter Maureen who especially treasured Martha's House by Edith Kunhardt which took us on a tour of a little girl's family cottage, irresistibly more charming than our slapdash and chaotic abode.

When she was four years old she had me read her that book every single day until we almost accomplished the impossible, wearing it out.

Another thirty years on, Maureen still recalls and speaks fondly of the book and of our daily ritual.
Little Golden Books were the brain child of Georges Duplaix, a French born children's book author and the head of The Writers and Authors Guild, Inc., an agency that sought to find publishers for its members.

Duplaix sold Simon and Schuster on the idea of an inexpensive line of colorful basic children's books.

He helped select
Dr. Mary Reed
, a professor at the Teachers College of Columbia University, as the initial editor of the series.

Western Printing and Lithographing Company of Racine, Wisconsin was brought in as a partner in the enterprise and did the actual printing and binding.
Georges Dupaix not only recruited authors and illustrators, but penned several Little Golden Book titles including some like this on that he translated himself from their original French editions.
Despite World War II paper shortages, the books were a success beyond everyone's wildest expectations.

Within five months the 12 original titles had gone through three printings and sold more than 1.2 million copies.
Duplaix went to work for Western Publishing, for whom he recruited many writers and artists for the series and other Western imprints.

In 1958 Western bought out Simon and Schuster's interest in the series.

The Golden Books imprint, now including several other formats in addition to the classic cardboard bound books, has been sold several times.

In 2001, Random House paid an estimated $85 million to acquire Golden Books.
Several noted authors and illustrators have contributed to Little Golden Books, probably most notably Richard Scarry.

Margaret Wise Brown, best known as the author of Goodnight Moon, collaborated with illustrator Garth Williams, who also did Charlotte's Web and the Little House Books, on several early Golden Book titles.
Today, you can still find Little Golden Books, including many classic titles but also new ones featuring the likes of Sponge Bob, Dora the Explorer, and the Princesses from Frozen.

They now cost $4.99.

Given inflation, that is not much more expensive than the first books in 1942.