Early in her career Patsy Cline worked in cowgirl outfits that her mother designed and hand made.
There may not be a Don McLean song to commemorate the occasion, but March 5, 1963 was surely another day the music died.

On that day a small plane carrying Patsy Cline and fellow Grand Ol' Opry stars Cowboy Copas and Hankshaw Hawkins went down on the way home to Nashville from a Kansas City benefit.

The three stars and two others were killed in the crash in remote woods near Camden, Tennessee.
Learning that the plane was missing in the area friends from Nashville joined in the frantic search.

The crash site was discovered by Roger Miller, one of the many young artists Cline had mentored.
Roger Miller, overcome by grief, at the crash site he discovered. Hankshaw Hawkins's guitar strap and a boot lie at his feet.
Born

Virginia Patterson Hensley

in Winchester, Virginia in 1932 to a sixteen year old seamstress and her blacksmith husband, she was performing in local talent shows and clubs by her mid teens.

During a short lived marriage to Gerald Cline in the early '50's she began performing as Patsy Cline.
Cline was soon being featured on a local Washington, DC TV program along another rising young country star, Jimmy Dean and signed a recording contract with Four Star Records.

She enjoyed middling success recording, at the label's insistence, material not suited for her rich voice and emotional delivery.

Still, she was getting enough attention to be invited to occasionally appear on the Opry.
In 1957 she competed on Arthur Godfrey's Talent Scouts, one of the most popular shows on television.

Godfrey insisted that she abandon the cowgirl outfits her mother made for a sophisticated cocktail dress.

She sang her recently recorded Walkin' After Midnight.

She won the competition handily and the song was released as single and soared to the top of the country music and pop charts.

Cline regularly appeared on Godfrey's radio show and became a featured performer on the Ozark Jubilee on

ABC

.
Patsy on her 1957 wedding day to Charlie Dick.
Cline was touring regularly and was a fast rising star when she married Charlie Dick.

Despite rumors of abuse, she always called Dick the "Love of my life."

Together they had two children, Randy and Julie who her mother helped raise while she was on tour.

After her death Dick dedicated much of the rest of his life to preserving Patsy's memory.
With a new manager Cline was finally released from her restrictive Four Star contract and signed with Decca in 1960.

She enjoyed country and pop success with a string of hits that featured full orchestration and elaborate production values, the so-called Nashville Sound.

Her first Decca record I Fall to Pieces set the standard for the new sound and new success.
By 1961 Cline became a member of the Opry and was soon one of its biggest stars.

She befriended and mentored many artists, especially women like Lorretta Lynn, Dottie West, and Barbara Mandrel.

But she could also hang out with male performers matching beers and dirty jokes.

Incredibly generous she often supported struggling performers, even brining them into her home.

Cline was the best loved woman in Nashville.
Her high ride almost ended in a near fatal car crash in 1961 in which she was thrown through the car's windshield.

Dottie West rushed to the scene and cradled her injured friend picking glass out of her hair.

Cline declined treatment in the hospital until the other driver was cared for.

That driver died, and the delay may have made Cline's injuries worse.

She suffered a broken hip, several broken ribs,

and a deep, long gash on her forehead.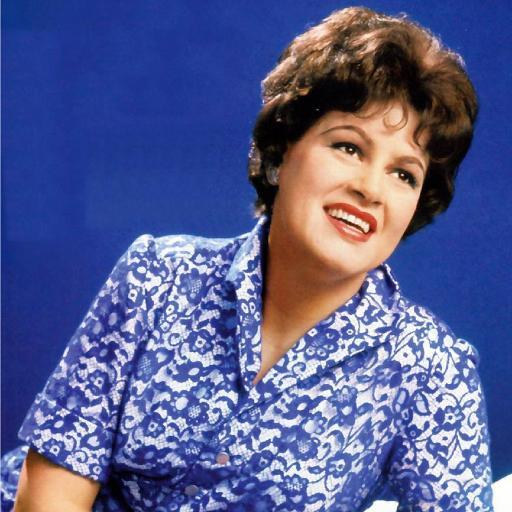 After her auto accident in 1961, Cline's appearance dramatically changed as she used wigs and heavy makeup to cover a serious scar on her forehead.
The rest of her life she had to hide the scar under wigs and heavy make-up.

Ever the trooper, she returned to touring while still on crutches.
Her recording of young songwriter Willie Nelson's Crazy became the biggest hit of her career.

Cline became the first woman in country music to have her own show at Carnage Hall.

She also sang at the Hollywood Bowl and headlined her own show in Las Vegas.
Patsy Cline was only 30 years old when she died.

She has since become a cultural icon.

To this day no one sings a song with emotional intensity of the girl from Winchester.