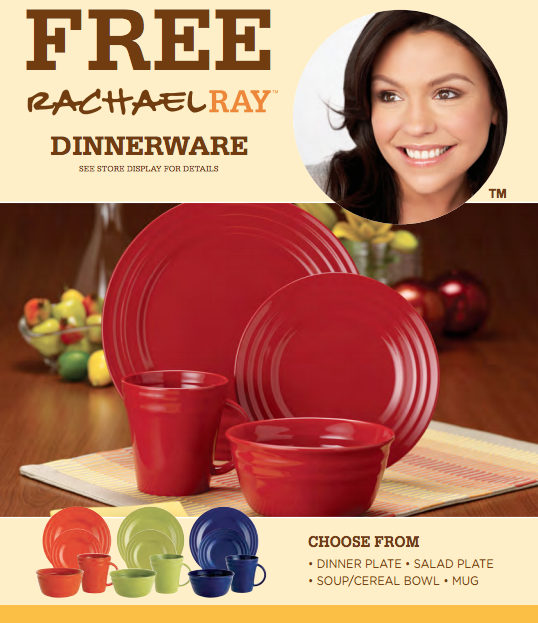 My new swag.
I guess it's now official.

I have become my Mom.

I know that is a wail usually associated with women when the first find themselves telling the kid "because I told you so, buster," not from men on the cusp of official elderliness.

But it's true.

I proved it yesterday.
After saving for weeks we redeemed our Jewel food store stamps for colorful new dishes.

They even resembled something out of the '50's—solid red, blue, and green mix and match.

To make matters worse, the dishes are "by Rachel Ray," the much mocked—by foodies and hipsters at least—basic cable queen of middle brow cooking.
When I say we, I mean that my wife Kathy was complicit.

But make no mistake about it, the idea was mine and she was dragged along somewhat reluctantly.

I coveted those dishes since I first spied them on my weekly grocery expedition several weeks ago.
I had simply grown tired of our entirely serviceable, but boring plain white plates.

We came into possession of those heavy restaurant style plates several years ago.

We have a huge box of them and haven stocked kids with them as they left the nest.

Any broken ones—and they are damned hard to break because they are so heavy—were replaced from the

bottomless carton in the basement.

I dimly remember we got them via my late brother-in-law who salvaged them from Great America where he worked when the restaurants there got china with logos on the plates.

Serviceable or not, they were boring.
I probably would not have gone out and bought new china.

Early in our marriage I had done that on a couple of occasions—first to replace hideous but indestructible '50's wheat pattern Melmac—but the kids were young and neither set survived without breaking more than a year or so.

Thus the equally indestructible industrial China.

When I would sometimes look at the kitchen departments of my usual retail haunts, K-Mart and Target I would be daunted by escalating prices.

I dared not even look at prices at up-scale—for me—shops like Sears (before the merger), Penney's, or Kohl's.
But when presented with the opportunity to get new dishes for FREE, my inner Mom kicked in.
The frugal Mrs. Murfin
Mom, Ruby Irene Mills Murfin, was a study in contradictions.

She had grown up in dire, grinding poverty and then the first years of her marriage were marked by the Great Depression when Dad was out of work or underemployed and they had to suffer the humiliation of living with relatives.

On one hand she knew how to stretch a buck like nobody's business and was always alert and anxious should hard times come again.

On the other hand, she had social ambitions.

As Dad rose in the world after returning from World War II and they entered the middle class, she dreamed of hob-nobbing with the cream of Cheyenne, Wyoming society.
To that end she carefully amassed a complete set of heavy leaded crystal glassware—tumblers, water goblets, wine glasses, butter plate, sugar bowl, and gravy boat—delicate china with a needlepoint rose pattern, and silver flatware in a golden, velvet-lined box.

All of these ritual items were displayed in a glass front hutch in a corner of the dining room.

The dark mahogany hutch matched a gleaming dining room table and chairs.
Mom dreamed about hosting fashionable dinner parties around that table with sophisticated ladies and gentlemen bantering like characters in a Noel Coward play.

Alas, it never happened.

For whatever reasons the ladies of Cheyenne never came to call, even when my Dad was in the Governor's cabinet.

Thrice a year—Thanksgiving, Christmas, and Easter we were permitted to stiffly sit at the table draped in a lace cloth she tatted herself, and dine off of and with the holy objects.
After she died, those items passed to me.

I had no dining room or way to practically use them so I passed them on to my daughters and my nephew.

I still have the box of silver, in custody for Heather, when she should want them.
The elegant wannabe is not the part of Mom that I've become.

It was the everyday master of thrift.
In our house our colorful aluminum tumblers were originally delivered by the milk man and contained cottage cheese.

Our juice glasses were festooned with cartoon characters and came from Welch's Grape Jelly.

My brother and I drank our milk from treasured white mugs with Davey Crocket in a canoe emblazoned on the side thanks to some peanut butter company.

Everyday dishes came in soap flake boxes.

Even our pastel blue and pink polka dot genuine Cannon towels flogged on TV by a youthful Dolly Parton and Porter Wagoner came jammed in boxes of Duz detergent.
All sorts of miscellaneous household goods came from keeping books of S&H Green stamps, and premiums for opening accounts with various banks and savings and loans.

She kept a small sum of money—maybe $25—with which she opened and closed these account chasing toasters, mixers, and plastic radios.

With only three banks and half a dozen S&L in town, they all must have gotten used to seeing her periodic visits.

People like here were probably the reason banks stopped luring accounts in this way.
I have followed in the same vein.

Maybe worse—I furnished our apartments and home from ally picking and thrift store purchases.

Mom always wanted good furniture.

If the upholstery got worn or old fashion, well she just learned to how to do the re-cover job herself.

In fact she got so adept at it that she and her tack hammer re-did half the living rooms on the block.

She also discovered kits to build mahogany furniture from which she assembled and finished dressers for the bedrooms and a low telephone table/linen cabinet with sliding doors which set in the dinng room.
Her talents in that department have outstripped mine, although, with much cussing, I have built from kits bookshelves, a kitchen pantry cabinet, and the new cabinet on which our flat screen TV now resides.
But I have long been a devotee of the grocery store premium.

Over the years I painstakingly obtained weekly volumes of the Funk & Wagnall's Encyclopedia and the American Heritage Illustrated Encyclopedia of United States History, both from Dominick's Belmont Avenue store in Chicago.

More recently from Jewel there were luxury bath towels and a nice set of non-stick pots, pans, skillets, and such.

You know the kind—the sort that set food purists hair on fire but which I treasure because they are so damned easy to wash and keep clean.

There were also years when most of the time we dined off of Ronald McDonald plates—further proof of gourmet apostasy.
Unlike Mom, I will never aspire to be fashionable.

But I am damned good at being cheap.
In the meantime my family, which never gathers around the dinner table—we only have a small, perfunctory kitchen table—will dine from their laps or TV trays in the living room whenever the hell they get home, off of colorful new china.

I'm sure it will make my semi-home cooking taste better.