She was without doubt the most famous—and romantic—single commercial aircraft ever to take wing, an icon of a shrinking world, and an honest-to-god movie star in her own right.

It all began on November 22, 1935 when the Pan American World Airways China Clipper lifted out of the water off of Alameda, California with a cargo of airmail bound for Manila in the Philippines.

Heavily laden with cargo and fuel the mighty four-engine Martin M-130 struggled to gain altitude.

A scheduled loop around San Francisco for the benefit of an eager press and newsreel cameras had to be scrubbed and pilot Edwin Musick realized he could not get over San Francisco-Oakland Bridge, then still under construction, so he dramatically flew under the span.

It was a rocky start, but the plane was on her way.
It was epic, arduous and took seven days with lay-overs for fuel and to rest the crew at Honolulu, Midway Island, Wake Island, and Guam.

Setting down in Manila Bay with her cargo of 110,000 pieces of mail was cause for national celebration.

The Clipper was soon in regular scheduled service and also carrying passengers.
Pan Am President Juan Trippe charts out trans-oceanic routes for his flying boats.
The flight was a long time coming.

It was the vision of Pan Am founder and President Juan Trippe, a swashbuckling Wall Street investor turned aviation entrepreneur.

After earlier forays into the infant industry, Trippe founded the Aviation Corporation of the Americas which opened Latin American air mail service with a flight from Key West to Havana in 1927 with Musick at the controls.

He saw the future of international commercial aviation was in flying boats and put Pan Am's resources into helping develop and put them in operations.

With planes like the Sikorsky S-42 which made trans-Atlantic service feasible.

With well-established routes to South America, Africa, and Europe, which made Pan Am the unofficial United States flag carrier, Trippe turned his gaze East.
But Asia was far away and regular service would require a new, larger, and more powerful aircraft.

Trippe commissioned a new plane from the Glenn L. Martin Company of Baltimore, Maryland.

The builder designated the new planes as the M-30 Martin Ocean Transports, all-metal flying boats with streamlined aerodynamics and four powerful Pratt & Whitney radial engines.

The planes could accommodate 36 day or 18 overnight sleeper passengers and carried a flight crew of 7 plus cabin attendants for passenger service.

Three were built for Pan Am.
The China Clipper was first built and was test flown on December 30, 1934.

It was delivered to the Pan Am fleet on October 9, 1944.

Her sister ships were the Philippine Clipper and the Hawaii Clipper.
Meanwhile Trippe sent Musick, now Pan Am's chief pilot on two flights in a Sikorsky S-42 to scout routes to the Philippines and from Manila to China.

Musick was then one of the most famous aviators in the world holding more than 10 records for long distance and flying boats.

He was also, by far, the most experienced pilot in the world having racked up nearly 2 million trans-oceanic air miles.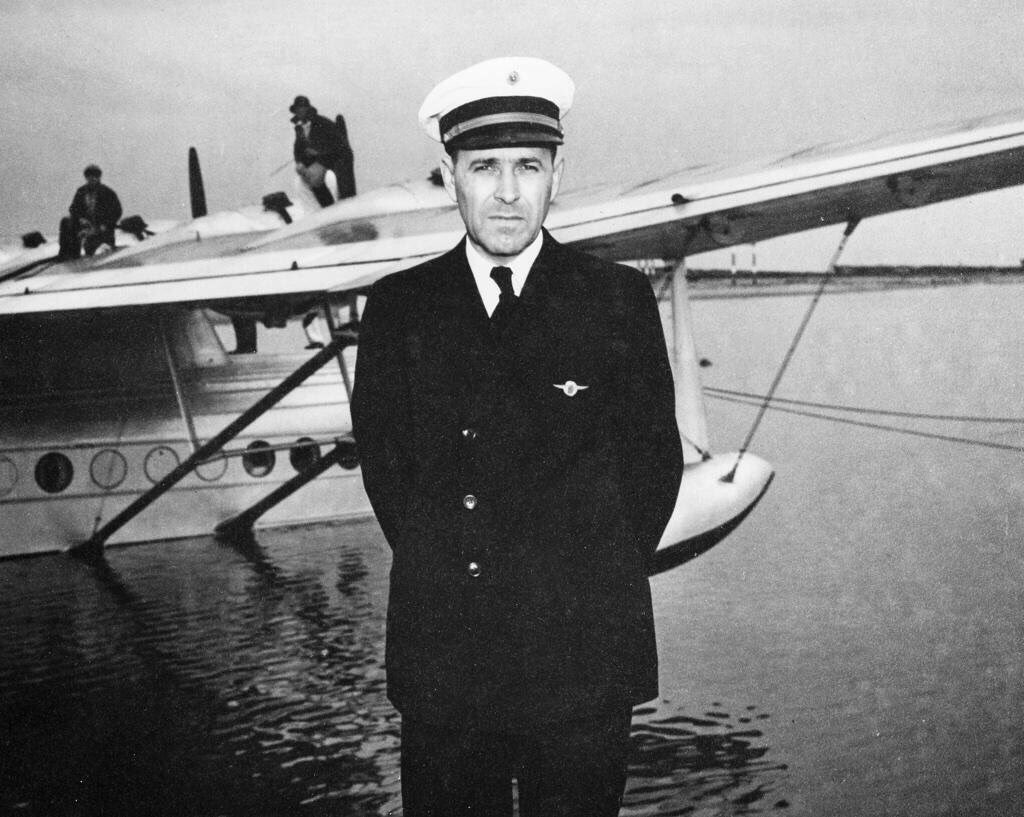 Pan Am Chief Pilot Captain Edwin Musick, the most experienced aviator in the world, mapped out the Trans-Pacific route and flew the inaugural service of the China Clipper.
With the route laid out, Musick was the easy choice for senior captain on the inaugural flight of the China Clipper.

The rest of the crew were also respected veterans and included First Officer R.O.D. Sullivan and navigator Fred Noonan, later famed for doing the same duty on Amelia Earhart's doomed round the world flight.
Weekly passenger flights
across the Pacific began in October 1936 with Hawaii Clipper.

Connecting service from Manila to Hong Kong began in 1937 using S-42's with the Clipper class Martins taking over that leg of the route a year later.

All three of the Martins flew these routes, but in the public's eye they were all the China Clipper.
A lobby card for Warner Bros. 1936 China Clipper starring Pat O'Brien, Humphrey Bogart, Henry B. Walthall, Ross Alexander and, of course, The China Clipper herself.
Public fascination with the Clipper was so high that Warner Bros./First National Pictures rushed into production with a film China Clipper starring Pat O'Brian as a thinly disguised Trippe single minded and ruthless in his aim to establish trans-Pacific service no matter the cost.

The turgid melodrama is noted for an early non-gangster role for Humphrey Bogart as a safety conscious pilot at odds with O'Brian who eventually saves the day by flying the plane safely through a storm and into a mail contract.

The film used much newsreel and stock footage of the real China Clipper, including dramatic footage of passing under the Bay bridge.
The China Clipper was featured in other films including 1937 comedy film Fly-Away Baby and the 1939 adventure film Secret Service of the Air and referenced in several others.

Later Alec Baldwin would play Juan Trippe in the bio-flick of his rival Howard Hughes in The Aviator starring Leonardo DiCaprio. It also figured in radio serials and popular

pulp fiction.
The China Clipper and her sister ships as well as the famous pilot of that first flight all met disastrous ends, a reminder of how dangerous long distance air travel still was even in the most advanced aircraft.
On January 28, 1938 Musick and his crew of six died in the crash of the S-42 Samoan Clipper near Pago Pago, American Samoa, on a cargo and survey flight to Auckland, New Zealand.

A few months later in July the Hawaii Clipper disappeared between Guam and Manila with the loss of nine crew and six passengers.
The Philippine Clipper survived a Japanese air raid on Wake Island, an event depicted in the 1942 film Wake Island.

Pressed into wartime service for the Navy along with the China Clipper, she was lost in January 1943 between Ukiah and Boonville, California on a flight from Honolulu killing Pacific submarine force commander Admiral Robert H. English and 18 others.
Pan Am promoted the return of its most famous and glamorous plane to post-war civilian service by putting her on a heavily promoted new route from Miami to Leopoldville in the Belgian Congo via South America. With an inexperienced flying boat pilot at the controls, she crashed attempting to set down in Trinidad on the inaugural flight killing all on board.
That left the original China Clipper the sole survivor of the fleet.

Released from Navy service she was assigned to the inaugural flight of Pan Am service between Miami and Leopoldville in the Belgian Congo via Rio de Janeiro.

The plane was attempting to touch down at Port of Spain, Trinidad with an inexperienced pilot at the controls but under the supervision of a veteran pilot.

After aborting one approach the pilot misjudged his altitude and came in nose down hundreds of yards short of his designated landing zone.

The plane hull smashed on impact, took water and, quickly sank.

All 28 on board were killed.
Trippe would go on to lead Pan Am for decades introducing new innovations like the Boing 747, workhorse of international aviation.

He died in 1981 at the age of 81.

Mercifully he did not live to see the ignominious failure of what had been one of the world's premier airlines a decade later.