Take Back the House is a great slogan and a noble goal, but unfortunately not likely in 2016.
Note—I apparently have more to say about the races this year than I thought, so this series is going to run longer than the projected three days.

Today is already the third installment, and we have only gotten to the Congressional races.

I am only covering contests in the two Congressional Districts that include portions of McHenry County, Illinois—suburban/exurban districts normally considered solidly Republican.
Nothing in
recent politics
—until
Donald Trump
crawled out from under his rock—has been as discouraging as the
iron grip Republicans
have on the
House of Representatives
and the
sharp right turn
that party took with the
rise of the Tea Party.
Thanks largely to
gerrymandering reapportionment
after a Republican wave took many
state legislatures
and
governorships
in 2010—at the bottom of the
economic collapse—
the Republicans now hold scores more
safe seats—nearly unassailable seats
—than they did before.
Enclaves of White Suburban voters
in the
suburbs of major metropolitan
areas
were preserved intact while
Democratic areas
and
especially minority communities
were
sliced and diced
every which what with small pieces thrown into hostile new Districts.
As a result Republicans now hold 247 seats to 188 for the Democrats despite actually getting fewer votes for their candidates nationwide in the last two elections.
That's because the majority of Democratic votes come from urban districts with huge majorities while the Republicans control the geography of the House, if not the total population.
The increasingly
shrill
and
militant
Tea Party dominated House has been lashed to a
frenzy of
opposition
to everything
Barack Obama stands
for
or opposes
.
They literally
foam at the mouth
at the
mere thought
of a
Black President.
They have not only
killed
his
budgets
and
agendas
they have worked with
single-minded obsession
and scores of
useless, symbolic votes
to kill the
legislative triumph
before Democrats lost the House—the
Affordable Care Act
or, as they call it,
Obama care.
They
destroyed
previously
bi-partisan immigration reform
.
And they passed, over and over, legislation to
restrict abortion, de-fund Planned Parenthood,
and
attack Gay rights
and
Marriage Equality.
Almost all of their most
draconian legislation
, died in the
Senate
either to the
narrow Majority
or
tie
Democrats held until 2014 or to the
threat of filibuster
the last two years.
If all else failed there was the sure knowledge that Obama's
veto
could almost always
be upheld
.
The Democratic minority in the House was systematically
stripped of many traditional courtesies
and
procedural input
, their
staffs slashed
, and minority members literally
locked out
of being able to
call witnesses
in many
committees
.
Traditional
negotiation
and
compromise
between parties
completely broke down
with Republican legislation
rammed through
without even allowing
consideration of Democratic amendments
.
It was the
back of the hand
and
my way or the highway.
The result has been
confrontation
,
government shutdowns
or threat of
shutdowns,
and
absolute legislative gridlock
.
The
American people
have
noticed
and
approval ratings
for Congress have
fallen off the charts
to the
low single digits
.
Despite this, thanks to the gerrymandered districts, the majority of voters say they like their Congressman.
The system
favors incumbents of either party
.
Districts now usually only
come into play
when a
seat opens up
due to a
retirement
,
death
, or
indictment
and the population is relatively closely divided between parties.
To regain the House this year, Democrats
need to win 30 seats—not unprecedented
.
They picked up 31 seats in 2006 at the
nadir
of
George W. Bush's popularity
.
But that was before reapportionment.
It was also a so called
wave election
, phenomena that generally occurs in
midterm elections
when the
party of an unpopular President
loses seats.
It is what happened to Obama and the Democrats in 2010 and to a lesser degree in 2012.
In Presidential years, even a
landslide White House win
only results in
modest Congressional gains
.
So most experts see retaking the House this year as a virtually impossible mountain to climb.
At best, Democrats hope to hold on to the seats they have, and pick-up a dozen or so seats in
potential swing districts.
The hope is that they can retake the Senate and with a big win by Clinton
somewhat chastise
and
tame
a narrower Republican majority in the House.
In Illinois, the reapportionment was still in the hands of Democrats who controlled the state House and Senate
and thus the majority on the reapportionment commission.
But their main interest was preserving most of their seats while the Illinois delegation was set to lose two seats due to
population stagnation downstate
and
explosive growth
in
Texas
,
Florida
, and other
Sunbelt states
.
They did an act of magic gerrymandering themselves to do that, dramatically revamping Congressional District boundaries to intentionally throw two Republican incumbents into the same district, for instance.
As note yesterday, they also reshaped the
8th District
to accommodate the expected candidacy of
Tammy Duckworth.
In the process McHenry County, which had previously been almost entirely within the 8th District was carved up between the radically alerted 6th and 14th Districts, both considered Republican bastions.
One of the things that happens when Congressional Districts are declared a lock for the GOP is that
money dries up
for potential Democratic challenger.
The
Democratic Congressional Campaign Committee (DCCC),
and the
Democratic National Committee (DNC)
don't want to
waste money on a losing cause
, but concentrate their resources on
competitive contests.
They even
discourage major Political Action Committees (PACs)
from doing the same.
Even progressives PACs like
Emily's List
, the
Brady Campaign
often follow along, although they will sometimes pick a few
longshot races
key to their interests.
Money is the
lifeblood of politics
and despite
extolling the virtues
of
volunteer driven
,
shoe leather
,
door to door campaigns
, it is almost impossible to be competitive without
heavy spending
on things like
literature
,
direct mail
,
polling, phone campaigns,
and, of course,
TV, radio,
and
social media advertising.
There are
staff salaries
to pay,
office rent
,
travel
, and
event expenses
.
It mounts up fast.
And in the bastion of another party, no matter how much money is raised, it will usually be
matched and topped
.
Without outside support only
wealthy candidates
who can
self finance campaigns
stand much of a chance.
The Republicans have lots of those.
In Illinois, at least, they have been scarce on the Democratic side.
Only
Congressman Bill Foster
comes to mind recently.
Despite these
odds
and
obstacles
ordinary Americans,
citizen activists
, bravely step up to the plate to run
long shot campaigns.
Most have
little political experience
beyond the most
local level
or none at all.
They are
people of modest means
who can only afford
limited funds
from their
own pockets
, often
tapping life savings
or even
mortgaging their homes.
They don't have
wide circles
of
wealthy family
and
acquaintances
to tap.
If they are not
retired
, they can expect that their
occupational income
will be
disrupted
for a year or more.
Yet these citizen candidates feel that their most deeply held beliefs and convictions must be upheld in the public forum and that voters must be given a choice—especially where the status quo represents oligarchy, belligerence, and bigotry.
In the
6th
and
14th Congressional Districts which
each include portions of McHenry County, two such citizen candidates have stepped up.
Each is
earnest, thoughtful,
and ready to both put forth
fresh ideas
and support the
progressive programs
of the
next President.
They deserve your
attention
and
votes
.
A
few bucks
thrown into the
hats they tossed into the ring
would not be unwelcome either.
The Illinois 6th Congressional District.
Amanda Howland for the 6th Congressional District
Peter Roskam
, the man who beat
Tammy Duckworth
in her first run for Congress, could be the
poster boy
for
entrenched incumbents
.
Since that he has
trounced
four Democratic challengers by wide margins despite having his district dramatically redrawn.
In 2014 he won by the widest margin yet—67% to 33%—against the largely symbolic candidacy of retired postal worker
Michael Mason.
Despite the national attention he received for his contest with Duckworth—probably the most watched race of 2006, Roskam quickly became a classic
back bencher.
Very conservative, he was never quite a Tea Partier.
He was elected
Chief Deputy Majority Whip
,
the fourth ranked GOP leadership post
, in the 112th Congress, but was ousted in the Tea party
putsch
in the next Congress.
Since then he has survived by
keeping his head down
and loyally following leadership.
He currently serves on the
Ways and Means Committee
and as
Chair
of its
Subcommittee on Oversight
where he occasionally draws attention for
hectoring
Obama administration officials.
He was also on the
Benghazi witch hunt
special committee.
Roskam is known as a reliable water carrier for the National Rifle Association (NRA) and gun lobby, opposition to Obama Care, calling climate change "junk science", and as a neo-con hawk on Iraq and against the Iranian nuclear deal.
Amanda Howland represents a break from all of that
obstructionism
Republican
dogma
.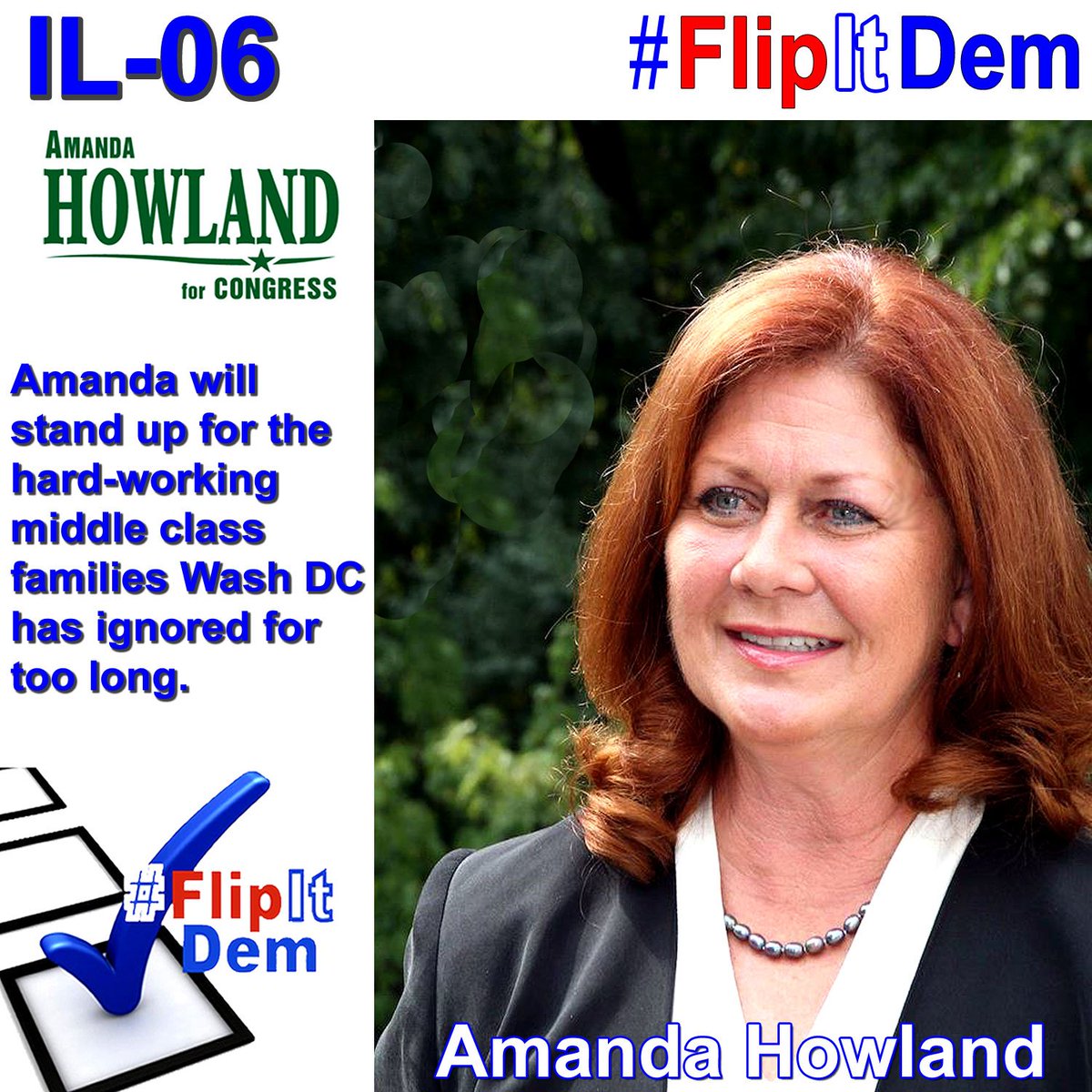 Howland, of
Lake Zurich
in neighboring
Lake County
is a former
teacher
and
education administrator
who is now an
attorney
specializing in
protecting the rights of people
in both
civil rights cases
and
employment law
.
She has long been
active in her community
in numerous capacities, including being a high level
gymnastics judge.
Howland serves on the
Board of Trustees
of
The College of Lake County
and was formerly
Chair
of the Board.
In 2012 she ran for the
24th District
Illinois Senate seat.
Howland's varied life experience has made her especially interested in
education.
Still paying off
student loans
from her return to
law school
in mid-career she is especially concerned about the burden of loans and a whole generation.
As a civil rights advocate she is a strong defender of a
woman's right to choose
and an
opponent
of all attempts to
restrict
or
make difficult to access abortion services
and
contraception
.
She supports the
Equality
Act aimed at
strengthening
civil rights
across the board.
Howland stands for a
tax system
that protects the
middle class
, and raises enough money for vital
infrastructure improvements
and educational opportunities like
Pell Grants
by making sure
subsidies to billion dollar corporations are slashed
and the wealthy
pay their fair share
.
She will protect
Social Security
from
Republican schemes slash benefits
,
dismantle it
, or
shovel money to Wall Street
in
risky privatization
.
He opponent is a well known climate change denier but Howland pledges to support ending oil and gas subsidies and implementing the Paris climate change agreement.
Polls show that item by item the American people—even Republicans—
support this
agenda
.
Howland has to get the word out.
Although her race is difficult, Howland good get a major boost if women turn out in big numbers to vote against Donald Trump.
Jim Walz for the 14th Congressional District
You wouldn't think that folks would

line up

for what

pundits

said was a

suicide mission

.

But three citizen activists ran in the

Democratic primary

for the

14th Congressional District

for a crack at Republican incumbent

Randy Hultgren

.

Jim Walz

of

Gurnee

was the

walk-away winner

of the primary based on a

solid progressive platform

.
Walz is an
outside sales representative
to a
major wholesale company
with deep ties to his community and a call to service.
He was elected to the
Warren Township High School District #121 School Board.
Both of his children attended and graduated from the high school. Among his accomplishments on the board was advocating the addition of solar arrays at both campuses of the school, convincing the Board to sign a letter of intent to install them.
Walz dipped into activism in 2012 when he worked to the Move to Amend advisory referendum on the Warren Township ballot.

The referendum supported
an
Amendment to the U.S. Constitution
to
overturn
the
disastrous Citizens United decision
of the
Supreme Court
.
The question passed by a 2 to 1 margin, a testimony to his tireless work.
That experience sparked a deeper interest in
tackling
progressive reform blocked by the Republican House.
He became a Democratic
precinct committeeman
in
Lake County
and after
consultation
with his
family
decided to enter the 2016 Congressional Race.
Walz's solidly progressive platform resonated with many
Bernie Sanders supporters
.
His program includes limiting the influence of
dark money in politics
by standing on the
principles
that
corporations are not people
and
money is not speech
.
He pledges to protect Social Security from right wing attack and
insure its continued solvency
by removing the
payroll cap
for
incomes over $500,000
per year, to
broaden the base
of this tax and make it
fairer
and more
evenly distributed
.
He proposes
expansion of programs
to
assist
and
protect veterans
and advocates
tax credits
to
encourage the employment of veterans
.
Despite taking
zero dollars
from big PACs and struggling with small donor fundraising, Walz has conducted a
vigorous
campaign relying on
door to door contact with voters
and
public appearances
in
parades, forums,
and
community events
across the district.
But he could use your help.
Illinois 14th Congressional District.
Walz face Randy Hultgren who came to the House in the 2010 election by defeating Democratic incumbent Bill Foster—who later returned to Congress from another District.
Redistricting put Tea
Party ranter Joe Walsh
into the 14th District.
Walsh considered challenging Hultgren, but was muscled aside by
state GOP heavyweights
and
deep pocket donors
.
Walsh was forced to run in the drastically redrawn 8th District where he was a
sacrificial lamb
to Tammy Duckworth.
Hultgren fared better.
He beat
retired health care administers
Dennis Anderson
, who ran
credible but cash strapped campaigns
in 2012 and '14.
In Congress Hultgren introduced legislation to
gut
the
Dodd–Frank Wall Street Reform and Consumer Protection Act
by allowing banks to use risky financial derivatives known as Swaps as a Hedge tool.

He further evidenced his fealty to corporate greed by signing the Americans for Prosperity pledge to oppose
Global warming legislation
that would raise any taxes.
He attacked the
Americans for Disabilities Act
with the
benign sounding Hire More Heroes Act
that would have
allowed employers
to
exclude veterans receiving health insurance
from the
Department of Defense
or the
Department of Veterans' Affairs
from their
list of employees
which would allow many smaller companies to
dodge
the
50 full-time employees line
that would
require
them to
provide their employees with healthcare
.
Needless to say Hultgren also voted for all of the scores of attempts to repeal Obama care.
Hultgren is intensely hostile to public education and leads the Congressional drum beat for special privileges for home school families.
Hultgren is as nasty as any House Republican and
sorely needs to be retired
from Congress.
Help Jim Walz do it.